Debbie Mandel's
Turn On Your Inner Light
Weekly Wellness Newsletter
February 20, 2007
www.TurnOnYourInnerLight.com
Debbie Mandel on NBC Today Show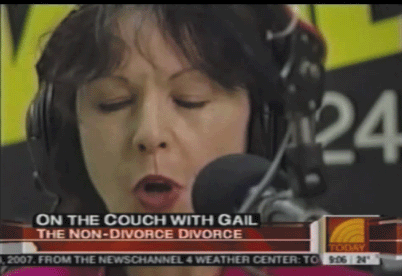 On Feb 13, 2007 I appeared on a Today Show segment, the The Non-Divorce Divorce topic which was discussed in the Jan 09, 2007 Newsletter.

I also co-produced a special segment of my WGBB radio show with NBC's Today Show. Listen to strategies for "Living in a Non-Divorce". If you are living like roommates instead of spouses, this show is for you. Callers-in open up and share their secret lives.

---
Affirmation of the Week
Don't think about the future.
Let it unfold like a great surprise.
---
Weekly Wellness Radio Show


The
Turn On your Inner Light
Radio Show airs Tuesday evenings 7:00 to 7:30pm, on WGBB 1240AM in Long Island.
Guest of the Week - Ana Weber
Feb 20, 2007 Show
-
Ana Weber
, a relationship coach and author of
Dumped
. Learn how to recover from rejection.
Last week's guest:
Feb 13, 2007 Show
- A special co-production with
NBC's Today Show
. Listen to strategies for "Living in a Non-Divorce". If you are living like roommates instead of spouses, this show is for you. Callers-in open up and share their secret lives.
Click
archives
for directory of past shows.
---
Health Tips of the Week
There is no convincing evidence that just taking omega-3 fatty acids can alleviate depression, says Drug and Therapeutics Bulletin.
Adoptive parents invest more time and financial resources in their children compared with biological parents, according to the results of a national study that challenges the view that children are better off with their biological parents.
A new Spanish study suggests virgin olive oil may help prevent and treat H. pylori infections, which are responsible for millions of cases of ulcers each year.
Enlarged prostates appear to be less common among men who eat lots of vegetables.
There is mounting evidence that cortisol given close to the time of physical or psychological stress may lessen the stressor's emotional impact. Psychologists are especially interested in what this means for preventing and treating post-traumatic stress disorder.
---
Article of the Week
How to Use Color to De-Stress
Remember when you were a child opening a fresh new box of crayons or ready to dip your little brush in a clean cup of water and into a bright, never-been-used water color. You felt inventive, alive with possibility and choice. You could break free of pre-existing lines, combine colors, elongate familiar shapes or create surprising curves. Maybe adults needed to ask you what you were trying to communicate on paper, but you always knew and wondered, "Isn't it obvious?" We are adults now and many of us have forgotten about color, opting for basic black or the safe monochromatic look that carries us from day to night. Why risk painting our walls in bold color when the various shades of white are safer and will surely match with a greater variety of furniture and knick-knacks?
Color has a powerful sensory appeal and many of us learn from visual cues. Researchers of integrative medicine study the impact of color on stress, relationships, productivity and healing. Understanding what different colors transmit and say about people can improve communication and engender respect and acceptance for personality differences. Why do we gravitate to certain colors, avoid others and how do they affect our energy levels?
more
---
Frank Mikulka's Fitness Tip Of The Week
What are the Signs of Overtraining?
I have heard talk about overtraining. I work out 5 times a week? What are the signs? (Cynthia, NY).
Answer
---
---