Motivational Speaking &
Customized Workshops

Debbie Mandel, a noted speaker, stress management/relationship expert, delivers keynote and motivational speeches locally in the New York City area as well as throughout the United States. She also runs frequent workshops on various topics associated with de-stressing, improving relationships and cultivating an eye for joy.
Testimonials

For more infornation about speaking fees and availability,
please Contact Debbie Mandel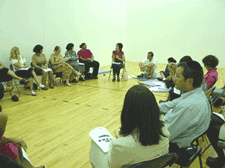 Keynote Speech Topics
Debbie Mandel is inspirational on a wide range of topics relating to wellness, stress management, improving relationships and workplace morale, fitness, healthfull eating, and finding the joy in life.

To view samples of Debbie's keynote addresses please click on one of the following links.
Are You Addicted to Stress? Here's the 7-Step Program for the Cure
"I have to rush," "I'm crazy busy," and "I can't remember what it feels like to get a good night's sleep" – is this you? Most likely you are addicted to stress which means that you adhere to the pattern of the over-doer both at home and at work. Debbie Mandel's proven 7-Step program to reclaim joy and spontaneity in life will build up an immunity to feeling bad.


How to Have a Constructive Conflict
Relationships thrive on rhythm and during a conflict that rhythm is broken. Learn how to communicate clearly, concisely and naturally. Fortify your self-concept so as to not tear down your opponent's.


Changing Habits to Self-Care
Are you a caregiver taking care of children, elderly parents and work? Learn easy stress-management strategies to put the oxygen mask on yourself first before you put it on the rest of your family as per airline instructions.


Don't Let Stress Steal Your Heart Away
Learn how to manage your personal stressors to speak a language your spouse can understand. Learn that "I do for me= I do for us."


Bad Moods Are Contagious
Learn how to fend off a bad mood at work, socially or at home. It is important to distinguish: Is it you or is it them?


Your Bad Habits Can Be Good for You
Overcoming a bad habit can be daunting to say the least. Mandel reveals how some typical bad habits actually contain strengths using the Kaizen method of business leadership to achieve balance in daily life.


Pain Management
Today's aches and pains require that we partner our own healing. Stress is the root cause of the inflammatory process. Learn how anger, resentment and loss impinge on your life and what you can do to get rid of the pain.


---
Testimonials:

"Thanks again for a fantastic job, the evaluations are wonderful."
Lani Jendrowski EOP/SUNY Buffalo

"Thank you! I think I have finally found what I have been looking for, for years. I hope to get your book and begin to enhance my life and enjoy the next fifty years!"
Pat, Michigan

"Debbie is a dynamic speaker and engaged all the participants in the program. She was able to create an environment in which the attendees felt comfortable enough to share personal thoughts and experiences with the group which aided in their healing."
Rena Goldsmith, MPH Coordinator, St. Luke's Roosevelt Hospital

"Your presentation of the K.I.N.D program was exceptional. Your discussion regarding on how to reduce stress and promote emotional awareness in students as well as your encouragement of my staff to ask questions was very informative and enlightening."
Dr. Annette Szafranski, Supervisor of Psychological Services, Queens High Schools, N.Y